In the Northern Hemisphere, we're in the last weeks of spring, already turning toward summer. Summer is the Sun's season – warm, bright, long days, and an open invitation to play. Symbolically, the Sun represents the way we shine and everything we put our life force into creating. In this blog, I'll help you celebrate June and show you 3 ways to inspire creativity, for yourself and others.
What is creativity? Many of us get uncomfortable just hearing the word, as though it were a challenge to make something worthy of exhibition. Everything you make in this life is a creation. You are a creation. The plants in your garden are a creation. Creativity is simply turning ideas into reality. You are already doing this, all the time! The problem is that for decades, creativity has been ranked, judged, and defined in exclusive ways. When you can acknowledge this and let it go, a new stream of inspiration will start to flow. Let's take the focus off the creative product or outcome – just forget it. Even use a different word than "creativity" if that's better for you. What gets your passion, curiosity, and energy turned on? What makes your heart happy? When do you shine? Here are some ideas for inspiring this thing we call creativity.
3 Ways to Inspire Creativity
1) Play

Play and fun should not be underestimated! When your heart is open and you're having a wonderful time, it radiates into everything you do. You don't have to overplan it. Try picking one thing a week just because you want to do it. It could be a walk in the woods, an ice cream cone, or finally picking the movie you want to watch after dinner. What about flying a kite, decorating a cake, or fingerpainting? If you have kids, follow their example.
Remember when play was a number one priority? It's a major key to development on all levels and it just feels good. It's a proven fact that happiness changes your body chemistry. Happy thoughts increase serotonin, the brain's happy chemical – the one most commonly addressed with anti-depressant meds. Sunshine also releases serotonin, so get outside this summer and have a good time!   

2) Sleep and Dream

Seriously, it's pretty hard to get creative and excited about anything when you're exhausted. Summer's not meant to be a difficult time. Lounging on the beach and naps in a hammock come to mind. When the Sun's hot, we also need shade. If you've been burning the candle at both ends, turn down the heat and take a time-out. Do what you can to get a full night's sleep. Dreams are powerful inspiration for creativity, so indulge in a beautiful dream journal and hit the pillow for some adventures in your unconscious. Your big epiphany could be waiting in la la land, but you'll never catch it if you're always awake!
Beyond regular sleep, we all need time to digest and absorb life. Reflection is revealing and gives us a chance to see things in a new light. Try to find a healthy balance between pushing forward and taking time to appreciate what you've already accomplished, no matter how far you've come. In simple terms, don't skip the rest stops. They pay off!

3) Do What You Love

You may be a fulltime parent, have a fulltime job, or both, but no matter how much others depend on you, you deserve to do what you love. You more than deserve it, you shouldn't live without it! If you already know what makes your heart sing, are you doing it? What's done in love creates more love, so don't keep putting it off. Find ways to do it more and people to do it with. I always teach that what you seek is seeking you, and it's true. When you're in the flow with your desires, they find you, often faster than you find them.
If you're still discovering what you love, keep exploring until you find out. For some of us, the things we love change over time, so self-discovery never gets old. Until you try it, you may never know how much you like it. The amazing thing about love is that it's contagious. When you're doing what you love, it's like a magnet. People are drawn to you and whatever you're doing. And even better, they're drawn to do the same for themselves. So, no matter what's created, life just got a little better; a little brighter.
Your Monthly Cosmic Forecast🌛🌝🌜
One of the easiest ways to feel better and live with more ease is getting in flow with nature. Astrology is a great tool for working with energy, inside you and out. Here's some of the cosmic activity you can look forward to in June: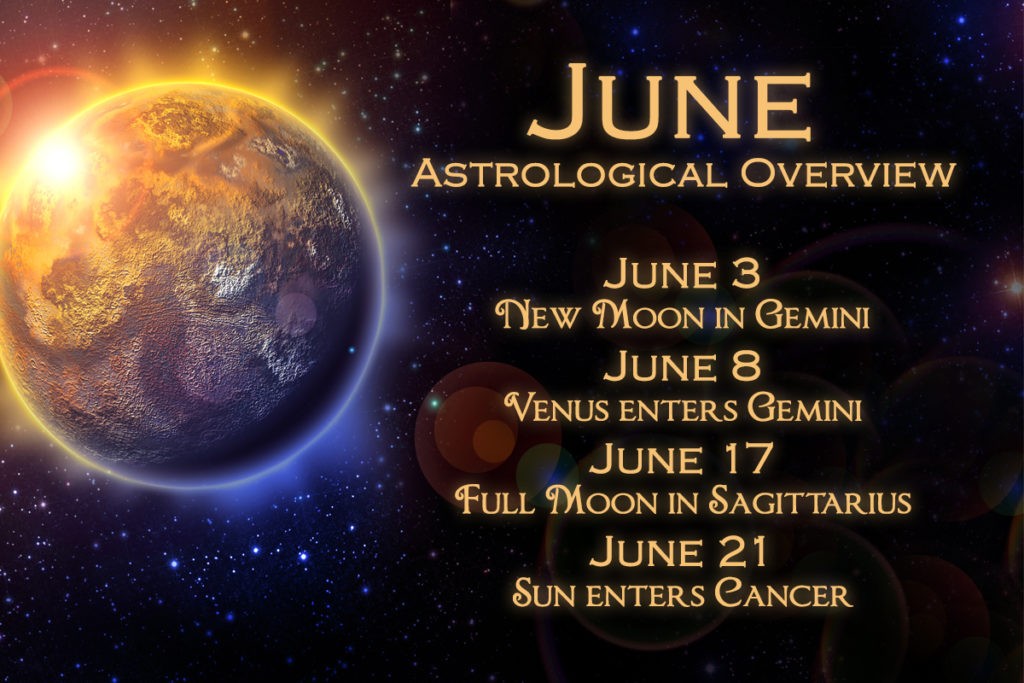 – June 3: New Moon in Gemini. Perception is a self-created reality. What story are you telling yourself and others? If you're tired of the way things play out, get out of the game or change the rules. You're the one writing the script.
– June 8: Venus enters Gemini. Words are romantic, sexy, and true works of art. Get out your laptop and let it flow. When Venus transits Gemini, poems, stories, and lyrics are born. If you're not into all that, try a little love note – just 3 words can make someone's day.
– June 17: Full Moon in Sagittarius. Are you a gypsy at heart? Do you know what it feels like to run free? This lunation is an invitation to follow and honor your unique path.
"A happy life is one in accordance with its own nature." – Marcus Amnaeous Seneca
– June 21: Sun enters Cancer. The Moon rules Cancer, and Moon Children are caring, sensitive, protective souls. If you've been playing Moon to everyone else's Sun – looking out for them first – don't forget to take time to nurture yourself.
Want to learn more about astrology and how to incorporate it into your spiritual practice? Click here to get started.
My Favorites for June ☀️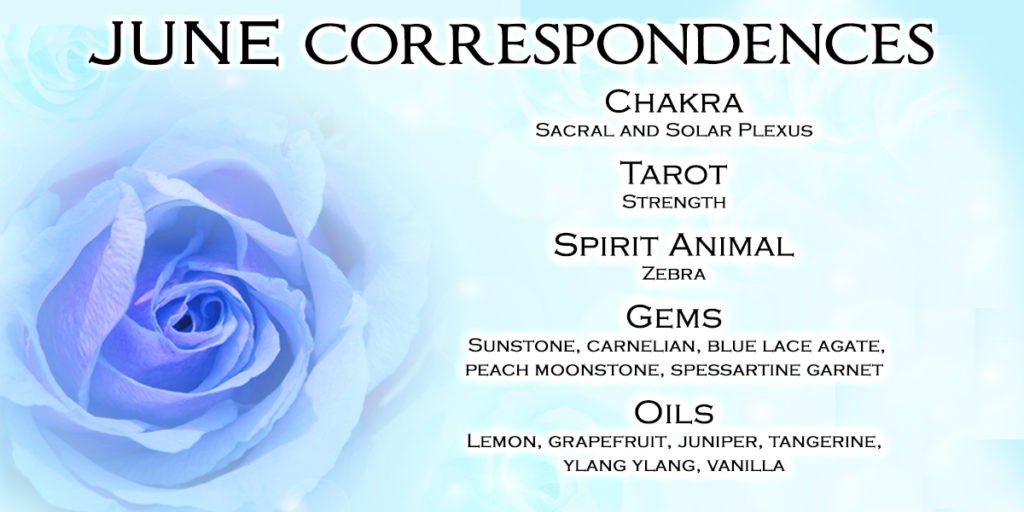 Chakra: Sacral and Solar Plexus. The Sacral Chakra is your center of creative potential, pleasure, passion, and inspiration. Everything you birth or bring into life comes through the Sacral Chakra. The Solar Plexus Chakra is your power center. Its color is bright yellow, like the Sun. A healthy Solar Plexus Chakra expresses as confidence, strength, and the ability to manifest what you create.
Tarot: Strength. The Strength card calls you to express your passion, instincts, and creativity. Renewed vitality and excitement for life awaits you when you follow your heart. Strength is Leo's card, a powerful reminder to be true to yourself and have the courage to share your gifts with the world.
Spirit Animal: Zebra. Zebra teaches you how to live in harmony with yourself and others without sacrificing the differences that make you special. Zebras are strong and healthy creatures with stamina and longevity. Work with zebra medicine to seek other people and groups like you – where you can use your individuality in a community and receive support for who you truly are and who you are becoming.
Gems: Sunstone, carnelian, blue lace agate, peach moonstone, spessartine garnet
Oils: Lemon, grapefruit, juniper, tangerine, ylang ylang, vanilla
~*~ ~*~ ~*~ ~*~ ~*~ ~*~ ~*~ ~*~ ~*~ ~*~ ~*~ ~*~ ~*~ ~*~ ~*~ ~*~ ~*~ ~*~ ~*~ ~*~ ~*~ ~*~ ~*~ ~*~ ~*~
Are you ready to manifest your deepest desires? Are you ready to transform into your best self, completely healed and happy? Join my Sage Goddess Soul Shift program designed to accelerate spiritual transformation, activate personal potential, and improve energetic flow.
Do you love harnessing the energy of the moon in all her phases? Join my Full Moon Ritualists community on Facebook where we share educational tidbits on working with moon energy, learn about astrology, and engage in lively, wild conversations with other like-minded tribe members.
Are you curious about the medicine of gemstones and crystals? Join my Gem Haven community on Facebook where we share tips and tools on harnessing the magic of gemstones and crystals, educate you on the properties of the most popular stones available on the planet today, and engage in lively, wild conversations with other like-minded tribe members.
Are you a perfume lover like I am? Do you know the healing magic of the oils that are used to make all of our perfumes? Join my Perfumery community on Facebook where you can learn about the properties of certain essences, how to work with certain blends to manifest your intentions, and engage in lively, wild conversations with like-minded people.
I absolutely love and encourage all magical feedback from my readers! However, I do not regularly moderate comments on the Sage Goddess blogs. So if you have a specific question or query that you'd like us to answer, please contact us via our Facebook page.