The first hints of spring are in the air, and I find myself longing to return to what is pure, clean, and nourishing. For me, this means fresh foods, long walks, organic products, deep meditation, and relaxation. I treat myself to alone time – space to breathe, soaking in warm baths, surrounded by gentle candlelight. My life is not a race to the finish – it is a winding road with luscious turnouts and sweeping views.
Imbolc falls mid-winter and is a time to celebrate the returning light. During this ancient Celtic holiday, our ancestors welcomed the first signs of spring and gave thanks for the coming crops that would bring them abundance and nourishment for the year ahead. This promise of growth in spring reflects the birth of our own new projects and offerings in the world.
Activities that Celebrate Imbolc
Pick a handful of dandelions to decorate your altar – but remember to leave some for the bees as it's their primary food source at this time of year.
Celebrate your creativity – draw, sing, or learn to cook a new dish.
Spring-clean your home, smudge every room, and sweep out stagnant energy with a besom or broom.
Have an Imbolc feast and invite your friends! Enjoy dried fruits and nuts, cheeses, milk-based drinks, and white wine or sparkling grape juice.
Ideas for Imbolc Rituals
Draw symbols of winter, such as snowflakes, onto paper or small wood chips and burn them in your fireplace to release the energies of the darker months.
Gaze into a bowl of milk to scry for images that may represent what new life is emerging at this time.
Light candles on your altar or in another safe place. Work with white candles for purification, yellow for new beginnings, and light green for the fresh growth of spring.
Inner Focus
What needs cleansing and purifying in your life?
What delicate new growth needs your support right now?
What is emerging in you and seeking the light?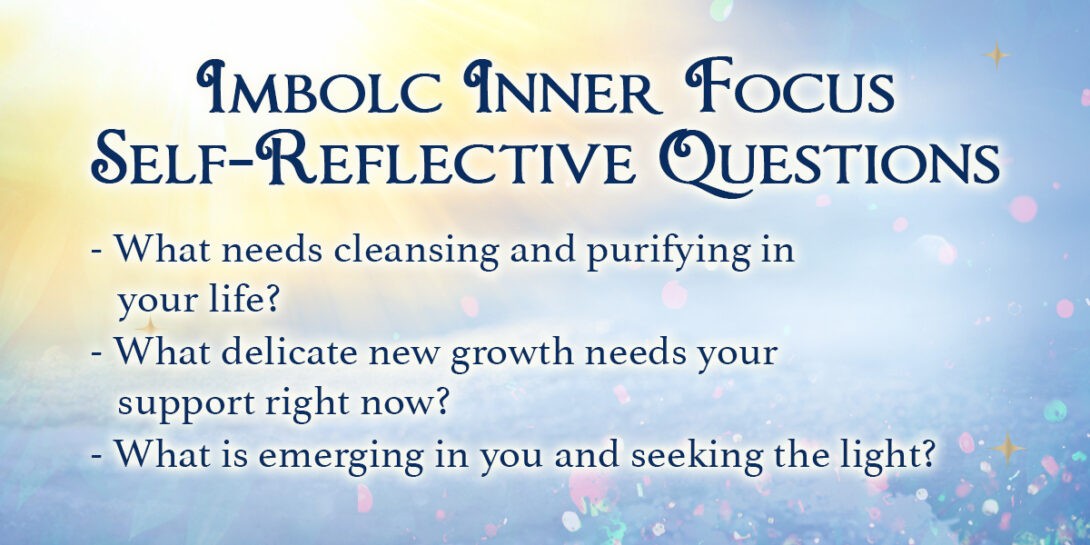 Imbolc is a time for appreciating simplicity and beauty. As flowers blossom with the coming of spring, I encourage you to explore what is new and growing in your own life. Have a good spring-clean of your mind, body, and spirit, and sweep out what isn't serving you so that you are ready to welcome the promise of spring feeling energized and refreshed from winter rest. And so it is.
Are you ready to breathe magic into your life? It's time to unlock your power and your possibility. Join my Living Magic program to bring magic to your everyday life. Each month, we'll embark on a journey of experiential sessions that cover ways to practice everyday magic, including crystal wisdom and healing, astrology, and sound healing.
Do you love harnessing the energy of the Moon in all her phases? Join my Astrology & Moon Magic community on Facebook, where we share educational tidbits on working with Moon energy, learn about astrology, and engage in lively, wild conversations with other like-minded people.
Are you curious about the medicine of gemstones and crystals? Join my Gems & Crystal Magic community on Facebook, where we share tips and tools for harnessing the magic of gemstones and crystals, educate you on the properties of the most popular stones available on the planet today, and engage in lively, wild conversations with other like-minded people.
Are you a perfume lover like I am? Do you know the healing magic of the oils that are used to make all of our perfumes? Join my Perfume & Aromatherapy Magic community on Facebook, where you can learn about the properties of certain essences, discover how to work with certain blends to manifest your intentions, and engage in lively, wild conversations with like-minded people.
I absolutely love and encourage all magical feedback from my readers! However, I do not regularly moderate comments on the Sage Goddess blogs. So if you have a specific question or query that you'd like us to answer, please contact us via our Facebook page.